Frieght Carrier - Heavy Duty Truck
16T GVM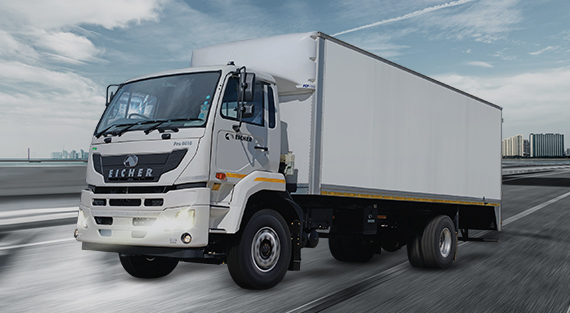 Eicher's Heavy Duty Freight Carrier is made to deliver a combination of high uptime, class-leading fuel efficiency, higher loading capacity, and enhanced driver efficiency and safety. It is powered by high efficiency VDEX 5 engine, which works on Volvo Group's EMS 3.0. It has been tested rigorously on South African roads & has proved itself to be BORN EFFICIENT.
Key Features
Powered by high efficiency VDEX5 CRS Engine, which works on Volvo Group's EMS 3.0
Vehicle comes with standard Air Conditioning, Power Windows, Radio
Steady Domex Chassis with 650 Mpa strength
Standard Air Suspended Driver Seat for comfortable Drive
Standard Radial Tubeless Tyres with Heavy Duty Suspension
Intelligent Driver Information System (IDIS), which will keep the driver updated with Fuel Efficiency & Safety Alarms
Standard Engine Protection System
Tipper Trucks - Extra Heavy Duty
16T - 25T GVM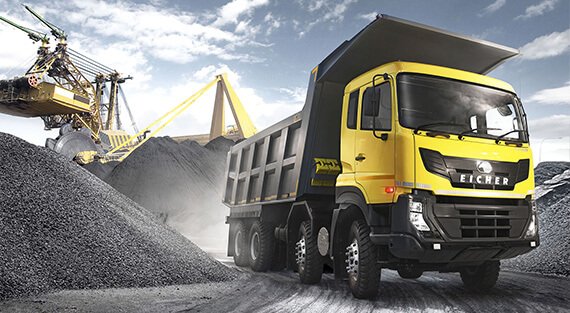 Eicher Pro Heavy Duty range of Tippers are available from 16- 25 ton GVM, ranging from 8.5 to 23 Cu.m body capacity. They are powered by Volvo Group's Engine Management System – EMS 3.0, and cater to various applications in the construction and mining industry.
Key Features
High torque over a wide rpm range
Higher strength and lower weight composite materials
Intelligent Driver Information System (IDIS)
Advanced onboard diagnostics
Spaciously, ergonomically designed cabin with state-of-the-art features